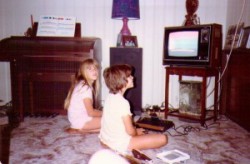 Ever get the urge to mess with Visicalc or WordStar again? Play the original Donkey Kong or Adventure on your computer? Now you can!
The Internet Archive, in a Christmas gift to the world, has unleashed the Historical Software Archive, a collection of prominent and historically notable pieces of software that you can run in your browser.  They range from pioneering applications to obscure forgotten utilities, and from peak-of-perfection designs to industry-crashing classics. And if you get the urge to play the videogames you grew up with from Coleco, Atari, Magnavox and Odyssey, you can head to the Console Living Room, a collection of console video games from the 1970s and 1980s.
These come by way of JSMESS, a Javascript port of the MESS emulator, a computer and console emulator that has been in development for over a decade and a half by hundreds of volunteers. The MESS emulator runs in a large variety of platforms, but is now able to run embedded in most modern browsers, including Firefox, Chrome, Safari and Internet Explorer.
Stop wasting time – or more likely, start wasting time – and see what the Internet Archive has brought us.
More about the Historical Software Archive
More about the Console Living Room